Festive Finish for the Ko Olina Children's Festival as Community Raises $65,000 for Kapiolani Medical Center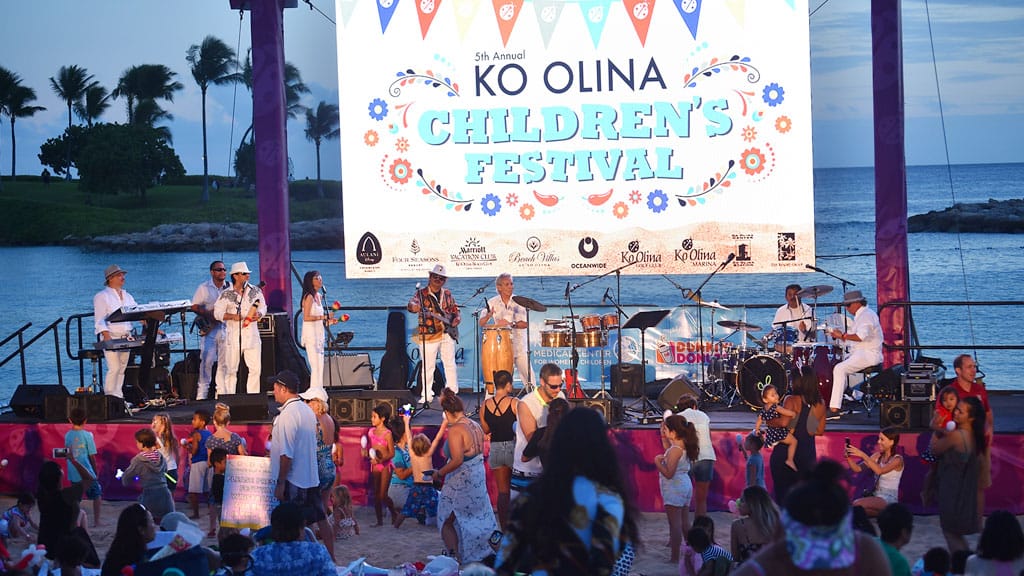 Press Release: September 23, 2018
Amount is highest raised in event's five-year history, bringing total contributed to Kapi'olani by Ko Olina Children's Festival to $275,000
KAPOLEI, O'ahu, Hawai'i (September 23, 2018) - Hundreds of glow-in-the-dark maracas waving in the air were quite a sight and a festive sound for the big finale of the fifth annual Ko Olina Children's Festival. That was the look and feel for the sunset viewing of "Coco," a Disney•Pixar movie, on the beach. The family-friendly event was one big fiesta with the inspired Dia de los Muertos celebration that included everything from a mariachi band to sugar skull cookie decorating. The benefit event for Kapi'olani Medical Center for Women & Children was held Saturday, Sept. 22, drawing more than 2,000 people for activities and entertainment.
Contributions from the Ko Olina Resort Association along with 100% of proceeds from ticket sales resulted in a $65,000 donation presented to Kapi'olani at the event, which is the highest amount raised in the event's five-year history. Funds from this annual festival support Kapi'olani's efforts to provide health care services and specialized programs for women and children regardless of a family's ability to pay. Over the past five years, a total of $275,000 has been raised by the Ko Olina Children's Festival for Kapi'olani to help support Hawai'i's only maternity, newborn and pediatric specialty hospital. As a not-for-profit medical center, Kapi'olani treats keiki no matter their illness or injury.
"The Ko Olina Children's Festival was created to inspire and celebrate the creativity in our children," said Jeffrey R. Stone, president of Ko Olina Resort Association and CEO of The Resort Group. "Kapi'olani Medical Center for Women & Children strives to provide the best medical care possible for our keiki and their 'ohana, and we share their commitment to our community. We thank the attendees for their support of this festival and making this significant gift possible." Keeping in the "Coco" theme, the Children's Festival featured an opportunity for keiki to slime it up with Pow! Wow! Hawaii founder Jasper Wong, cook with Aulani's Chef Kyle Higa, and celebrate Dia de los Muertos with a variety of arts and crafts activities, including decorating sugar skulls and skull masks with Four Seasons Resort's Kids for All Seasons team.
Event attendees also had a chance to take a journey through Hawaiian culture and learn to dance hula alongside popular Disney characters at Aulani's Ohana Hula Show, and explore a mix of music and sound production fun presented by Honolulu Community College's Music & Entertainment Learning Experience (MELE).
The Ko Olina Children's Festival also featured live entertainment by El Mariachi Loco Hawaii and a special appearance by the Rolando Sanchez Band. Rounding out the fun-filled afternoon were sun and beach safety activities with Kapi'olani Medical Center, Ko Olina Golf Club's Keiki Golf Academy, face painting, balloon artists and a selection of Walt Disney and Disney•Pixar short films.
"Kapi'olani's commitment to provide keiki with specialized medical care regardless of a family's ability to pay is certainly made possible by ongoing contributions from the Ko Olina Children's Festival," said Kapi'olani CEO Martha Smith. "The support of Jeff Stone, the Ko Olina Resort Association, festival sponsors and attendees of this event is awe-inspiring! As a not-for-profit medical center, our needs are never-ending, and we rely on community support to help us fulfill our mission to create a healthier Hawai'i."
Participating resorts from the Ko Olina Resort Association for this event are host site Aulani, A Disney Resort & Spa, The Four Seasons Resort O'ahu at Ko Olina, Marriot's Ko Olina Beach Club and the Beach Villas at Ko Olina. This year, the Ko Olina Children's Festival was also grateful to have Dunkin Donuts as a lead sponsor. Additional business and community sponsors included First Hawaiian Bank, Hawai'i Gas, Elite Parking and Ka Makana Ali'i.