Super Finish for the Ko Olina Children's Festival as Community Raises $65,000 for Kapiolani Medical Center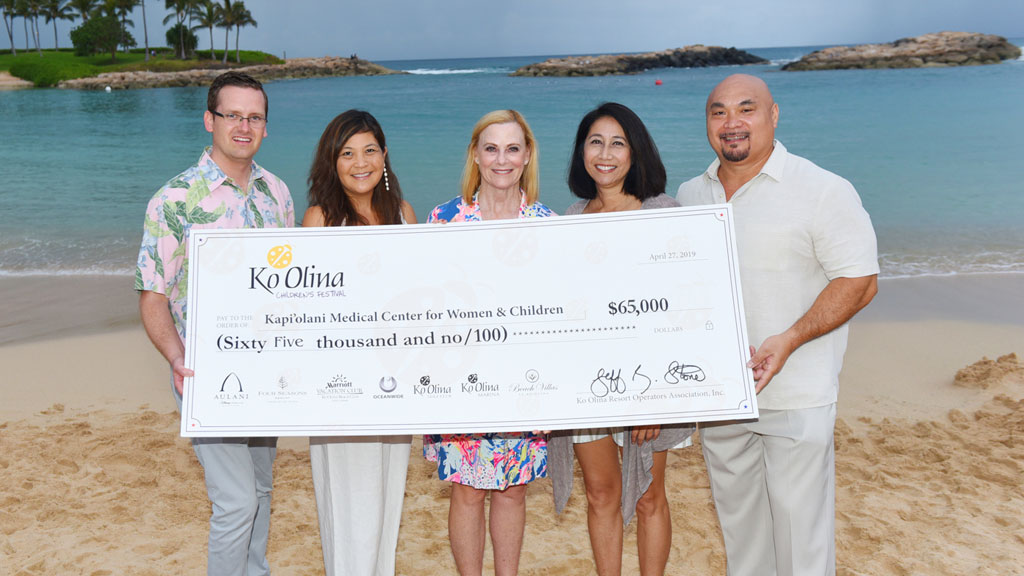 April 30, 2019
koolina.com
KAPOLEI, O'ahu, Hawai'i (April 27, 2019) – A superhero-themed festival at Ko Olina Resort proved to be empowering for kids of all ages! The sixth annual Ko Olina Children's Festival drew more than 2,000 people and, besides every facet of the festival having a superhero touch, the proceeds will make a great impact on the care at Kapi'olani Medical Center for Women & Children. This year, Ko Olina's $65,000 gift to Kapi'olani came from contributions from the resort's marketing association and 100% of event ticket sales.
Funds from this annual festival support Kapi'olani's efforts to provide health care services and specialized programs for women and children regardless of a family's ability to pay. Over the past six years, a total of $340,000 has been raised by the Ko Olina Children's Festival to benefit Kapi'olani, Hawai'i's only maternity, newborn and pediatric specialty hospital. As a not-for-profit medical center and Hawai'i's only Children's Miracle Network Hospital, Kapi'olani treats keiki no matter their illness or injury.
Heroes come in many forms and the festival also featured "Hometown Heroes," including the Honolulu Police Department, Honolulu Fire Department, Honolulu Ocean Safety & Lifeguard Services, U.S. Navy SEALs, Hawai'i-grown martial artists and Westside MMA fighters. The "super" theme of the Children's Festival featured an opportunity for keiki to participate in a 10-minute Navy SEALs boot camp, cook with Aulani's Chef Kyle Higa, meet the creative team behind Mana Comics and celebrate their own superheroes with a variety of arts and crafts activities, including power-arm tattooing and a superhero photo booth at the Four Seasons Resort's Camp Kohola Aqua Hut.
Live demonstrations by the Nito Boxing Academy and Hawai'i Elite MMA, a special mini-concert from the Tonga Sisters, an assortment of food vendors, family-friendly activities and hundreds of glow-in-thedark wands lighting up the night sky all made for a fun-filled day with something for everyone. The event's superhero festivities were capped off with the sunset viewing of Disney•PIXAR's "Incredibles 2" on the beach.